Sewn: Cat Bed Cushion
My kitchen is currently having a facelift (more about that in another post) and is looking lovely and fresh. Unfortunately, the cushion that sits in the cat basket was really looking grim in the light of the redecoration - anyone with a semi long-haired cat will know just how much fur they shed! So, I whipped up a new cushion this morning. Is it mean to have used this caged bird fabric?
I always had a bit of a sticking point with round cushions in the past, but it came together quite nicely. This may have been because I used a round tray as a template.
I even used the automatic buttonhole function on my sewing machine (something else which I have struggled with in the past).
I did try to get Atticus to pose for me on his new cushion, but everything has to be on his terms!
I am linking up with Le Challenge this month, because the theme is Round. Do check out what everyone else has been up to.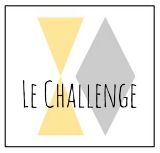 Note: the elevated cat bed is from Pets at Home.